Over the last few months, artist Eric J. Carter has been cranking on Tech Card illustrations for Eminent Domain: Exotica, and I'm loving the images he's been coming up with. You can see some of them on his facebook page, and I'll share one of my favorites here: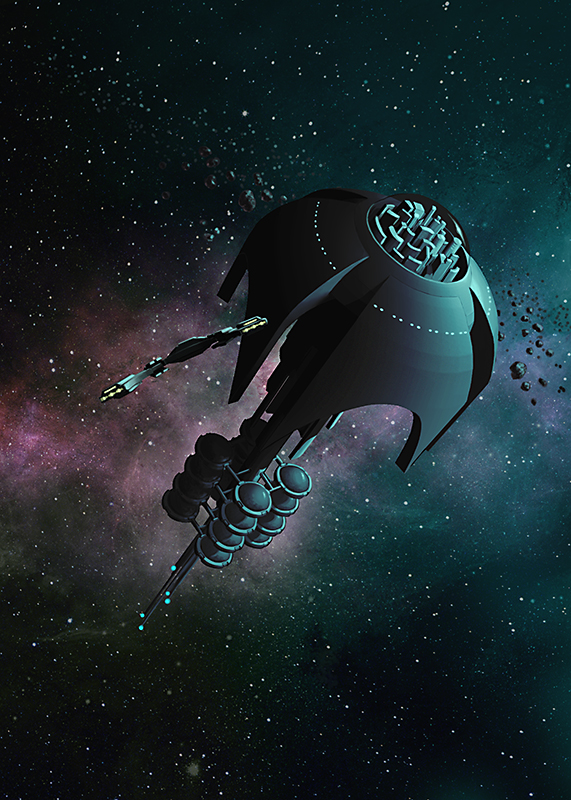 This illustration is for a tech card called Space Station, which is a permanent tech you could get that acts like a copy of any Asteroid in play.
Speaking of Asteroids, I was looking at the number of components that will be in Exotica. Based on the size of the box and punchboard, there will be 8 tiles in the game. 5 of those will be mining tiles, and the rest can be Start planets. I had 2 Exotic start planets, and I had also come up with a couple of promo-style Start planets (a Utopian planet and a Prestige planet). Having 1 slot left for a Start planet, I was going to just use one of those promo style planets. but the other day I had a better idea...
Exotica is all about 2 things: Exotic planets (with civilized aliens), and Asteroids. I had Exotic Start planets... why not try an Asteroid start planet? That could be interesting, but what does it mean exactly?
Well, Asteroids are kinda like low-value prestige planets in that they don't count toward technology pre-req's. So I could make an Asteroid start planet, it could cost 2/2 like all the standard Start planets, and it could have a Crystal resource slot (Crystal is a new resource that can be found on Asteroids and Exotic planets). But a standard Start planet would count toward one of the tech stacks, so an Asteroid Start planet would be at a bit of a disadvantage... the same was true for the prestige Start planets in Escalation. For the Prestige planets I added Role icons -- what could be added to an Asteroid start planet?
The solution presented itself fairly quickly: "Ignore planet requirements on Asteroidal technology."
The whole point of Asteroids, and the thing that makes them different than Prestige planets, is that they count as "Asteroids." There are a couple of cards in each tech stack with the word "Asteroidal" in the title, and they get better the more Asteroids you have in your empire. So it makes sense to me, both thematically and mechanically, that starting with an Asteroid as a Start Planet that you could access those technologies.
I'm getting excited about this one again, as graphic designer Ariel Seoane got to work this week on putting the package together. If you're interested in where the game is out, or want to give the Print & Play files a try, check out
this forum on BGG
.